Blessing of our Front Door on
The Feast of Epiphany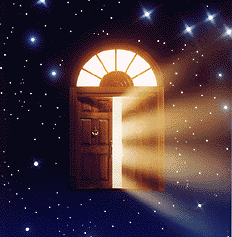 Blessed are You, O lord our God,
for you guide our footsteps.
You bless our coming in and going out,
from birth to death, you hold us in your care.
Bless this door, O Lord,
which we consecrate to this time of preparation.
Each day we pass this place,
draw us more deeply into your presence
and the wonders of your love for us.
You are the door to the Kingdom of God,
the sheep gate to life eternal,
O portal of eternal peace, our new and living way,
lose our sins and open for us the door of salvation.
O God, protect our going out and our coming in;
let us share the hospitality of this home with all who visit us.
May the poor find rest within these walls
and all who hunger find refreshment in our home.
Lead us home through YOU, to YOU, and with YOU,
One God, forever and ever. Amen.
With chalk write on the door frame:
20 + C + B + M + 02
...the year 2002 and the initials of the traditional names
of the three astrologers or kings who came to the manger on Epiphany ... Caspar, Balthasar and Melchior.
---

The above information is taken from the site of

Holy Family Parish in Wisconsin

Would you like to be notified of additional pages as they're added?
You'll be notified of additional inspirational and humor pages on our site and several others!

IM stands for Inspiring Minds! We hope you'll join us for the latest scoops on inspirational sources.
If you've had a chance to see enough of our site so far to share some feedback, please click here to sign our guestbook. Thanks for taking a moment to let us know you visited!

Thanks for visiting... there are lots more pages to see!

Links below...

Click here to reach our site's index page. (All pages have a link here.)
Counter added to this page 12/24/2000. 101 visitors counted prior to instillation of new counter.