Welcome to the Field of Dreams Link Page!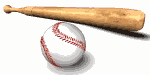 The field of dreams refers to our favorite baseball field behind the Beech Mountain, North Carolina house. Guy's motto" "Mow it, and they will play!" Many a baseball game has been played on the field during our annual visit on the mountain. It's a favorite place as well as a favorite pastime of the kids and adults when we gather for our vacation each summer.

Field of Dreams Pictures 2000

Other link choices are listed below.

This page was added to our site 7/24/2000.