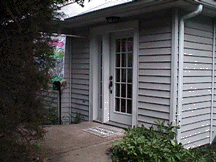 Come on in...it looks great inside, with freshly painted walls and refinished hardwood floors!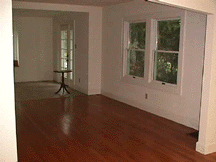 See what I mean? Those floors are gleaming! What a labor of love!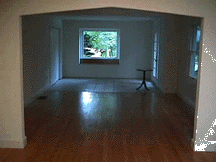 It looks a little dark, only because the house is surrounded by lots of "green growies", and with no furniture left in the house at selling time, we also lacked lamps!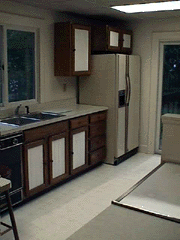 This shows a glimpse of part of the kitchen -- ready to be moved into!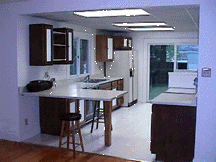 Another view of the kitchen, from the dining room. At one time, we had no ceiling light fixtures, but used study lamps in this kitchen! We've come a long way, baby!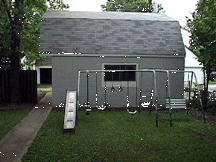 This photo shows the garage Jay had built-- it wasn't done until the house went on the market, so we never got to use it. Every guy that came through to look at the house coveted that garage!
Those are all the renovation pictures for now...in the future I'm sure there will be some from the home we currently live in-- Jay loves construction!!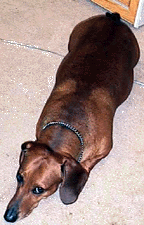 This is Gus, the Guard Dog at Garuston Construction/Russell and Associates Architects, where Jay is a partner. They spend a lot of time together, and Gus has earned a place of honor on Jay's web page!