Sisters' Reunion 2001, Page 2

Patty, Deb, and Ann joined Bumps, Bammy, and Vick for dinner at Sonny's. We had an excellent dinner, in great company!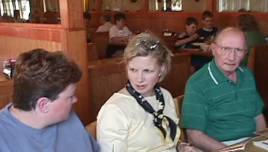 It didn't take long for everyone to decide on Sonny's wonderful baby back ribs!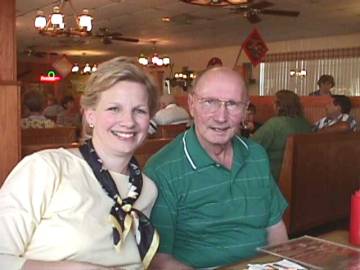 Looks like Ann and Dad (Bumps) enjoyed the meal and the company. Items of discussion included Dan's college plans for next year, his amazing kicking ability, other cousins and what they've been up to, and a spirited discussion of the Notre Dame Women's Basketball Team's great season.
Here is a nice shot of Mom (Bammy) and Vick to round out our photos.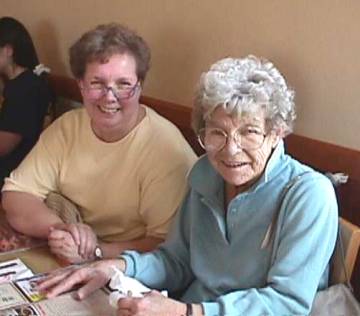 Stream of consciousness phrases that will remind us of our fun in the sun (well, not really fun in the sun, but fun, nonetheless) during Sisters' Reunion 2001...
A very nice new blue Chrysler van, Wendy's with laryngitis, TGIF sprinklers, driveway reflectors, The Mexican (at least Brad Pitt was cute), meatball sandwiches, The Cheesecake Factory, Applebees, Sonny's, Target, B.J's, "a devoted kitten and white shoulders", a shower sans a hot water heater, Scrabble, Cinnabon, discussing "The Robe", the Glareometer Report email, Dan's baseball game, his kicking video, the phrase "always with the negative vibe", prayers for John and family, reading, buying books at B.J.'s, "the green sheet" and the baker's rack, Vick's brownies with ice cream, Dairy Queen...
Ladies, give me some items to add. We can't make this whole thing look like we like to eat, you know?
How many weeks till our family's North Carolina reunion??
How many months till the next sisters' reunion??
Thinking of all of you with love... :-)


Back to Sisters' Reunion 2001, page 1
Back to Memories and Milestones Link Page