From Fr. Pat's List....

S T A R T O V E R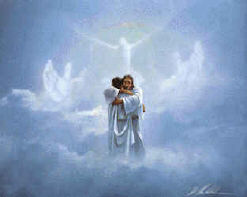 When you've trusted Jesus and walked his way
When you've felt his hand lead you day by day
But your steps now take you another way,
start over.

When you've made your plans and they've gone awry
When you've tried your best and there's no more try
When you've failed yourself and you don't know why,
start over.

When you've told your friends what you plan to do
When you've trusted them and they didn't come through
And now you're all alone and it's up to you,
start over.

When you've failed your kids and they're grown and gone
When you've done your best but it's turned out wrong
And now your grandchildren have come along,
start over.

When you've prayed to God so you'll know his will
When you've prayed and prayed and you don't know still
When you want to stop cause you've had your fill,
start over.

When you think you're finished and want to quit
When you've bottomed out in life's deepest pit
When you've tried and tried to get out of it,
start over.

When the year has been long and successes few
When December comes and you're feeling blue
God gives a January just for you,
start over.

Starting over means "Victories Won"
Starting over means "A Race Well Run"
Starting over means "The Lords' Will Done"

We need not just sit there ... START OVER.

Image copyright Danny Hohlbohm

If you know who wrote this, please email me.


Would you like to be notified of additional pages as they're added?
You'll be notified of additional inspirational and humor pages on our site and several others!

IM stands for Inspiring Minds! We hope you'll join us for the latest scoops on inspirational sources.
If you've had a chance to see enough of our site so far to share some feedback, please click here to sign our guestbook. Thanks for taking a moment to let us know you visited!
Thanks for visiting... there are lots more pages to see!
Links below...

Click here to reach our site's index page. (All pages have a link here.)