It's that time again, folks, and we look forward to hearing from and about you and your family, and learning what's happened in your life since we were last in touch. If you didn't have email last year, but now do, please be sure to be in touch with us to share your address and/or a holiday note.
All is well in Reale Land, with the usual mixture of change as well as status quo stuff to report. The year 2000 was one to remember. We were glad that "Y2K was okay", and not chaotic, as some had predicted! We spent New Years Eve '99 at a wedding, but made sure to be home before midnight, to reassure Joseph and Jeanna, who had gathered flashlights and candles in anticipation of what the wee hours of the morning might bring (or take away)! Eight days into the new year, our oldest nephew, Wes, turned 22, and the rest of his senior year at Notre Dame flew by. Before we knew it, many family members and friends were in attendance at Wes's and Krista's South Bend wedding, which took place on the evening of July 1st at the beautiful Gardens of the Copshaholm. Wes and Krista now live in Georgia (not far from my sister Ann and her husband, Don –Wes's parents), where Krista (St. Mary's College, 2000) is teaching and Wes is in Emory's medical school. Anyone interested in seeing some wedding pictures may do so on the Reale website! (Address above)
Rewinding the "year's tape" a little…we had great fun planning for and then making our first family trip to Disney World in April 2000! We took LOTS of pictures, which I suppose I should post on the Reale site in case anyone goes looking for them! Maybe sometime this month! (Isn't there a 12 month statute of limitations for this kind of thing??) I'll soon have Disney pictures to post for the Cleveland Smiths (on THEIR site!), as they made a trip to the Magic Kingdom and all points Disney in October of this year. We enjoyed our respective trips. The Reale Disney visit was combined with a Sisters' mini-reunion on the Disney grounds, when sisters Vickie, Ann, and Patty joined us during the last leg of the trip. We had lots of laughs, as we always do when we gather! We (sisters and sister-in-law Megan) may gather in Royal Palm Beach this spring. If the election isn't settled yet, we'll combine business and pleasure for this trip. It may take a determined group of Smith women to talk some sense into these politicians' heads, and we're willing to do our civic duty. Florida, watch out! (Keep in mind, this letter is being written November 25, 2000. Maybe by Christmas they'll actually have determined who our next president will be.) But I digress…
Looking back at how 2000 played out for the Reales, et al again… Jeanna's second semester as an 8th grader at St. Maria Goretti probably seemed to her to pass as quickly as Wes's did at N.D. SMG's first graduating class had a beautiful graduation Mass and reception in early June (more pictures I should find and post!) and Jeanna started her freshman year at Bishop Chatard High School in August. She loves it! We're thrilled (and keep trying not to think about the fact that before we moved to Carmel in July 1996, we lived five minutes from Chatard).
Following the afore-mentioned graduation, summer highlights for Jeanna included volleyball camp at Cathedral High School and a summer-long babysitting job for two kiddos she enjoyed being with. She brought a lot of maturity and creativity to her job. Sound like a proud mom? You betcha! I've always said she was teacher material, should she choose that route.
Joe had a great time in the spring and summer playing baseball, which he dearly loves. The Angels won their division and the championship, with a record of 10-1-1. Jay was the official team photographer for Joe's baseball and football teams, as well as Jeanna's volleyball team when she played last winter. He loves his camera.
Two weeks after getting together for Wes's and Krista's wedding July 1st, we all gathered in western North Carolina for our annual reunion, at Beech Mountain. The highlight of our reunion was having Tim, Megan, and their four young ones join us. They hadn't been able to make that trip for several years, due to pregnancies and the difficulties of traveling with a young brood. (Point of reference: Lauren is currently a 2nd grader, Caitlin is a 1st grader, Ryan is in pre-school, and Allison is a 2 ½ year old bundle of energy!) We had a great time, and those pictures ARE posted on the Reale website!
Fast forward a week from the mountain reunion, and the Reales were on the road again, to celebrate my youngest brother Tim Smith's 40th birthday! Megan had planned a surprise party for Tim at Bucca di Beppo's, and we had a wonderful time meeting their friends, who each shared their fondest memories of the old guy. Megan's birthday is the day after Tim's, but she's not close to that milestone birthday yet, so we didn't give her the grief that we gave Tim! Her turn will come, and if those of us who are older remember and can still get around when she celebrates the big 4-0, we'll get her good! Now what was I saying? Oh, yes—there are some pictures on the Reale site, as well as the Smith website (and more to post when I get time).
In August I began my 5th year as assistant principal at SMS. I enjoy the staff and students as well as the challenges and fun. We do have a good time! (Sure, there are photos of the fun times there too, which I've posted at www.smsindy.org !)
September brought Jeanna's 15th birthday (pictures on the website, but you knew that!) and we enjoyed celebrating in downtown Indy together, with a shopping trip (one of Jeanna's favorite hobbies, and I just don't know where she got the shopping gene J), dinner, and a carriage ride.
In addition, September marked Joseph's first football season (he's in 5th grade now), and it was also St. Maria Goretti's first football season, so it was pretty historic. They had fun and learned a lot (code for "Well, they didn't win any games, but they did score in two games, and almost won the last one"). Their coaches' guidance and parental support and spirit were awesome, in spite of the team's record. (Yup, I've got some pictures I still hope to post on our family website!)
We made our annual trek to Cleveland to enjoy Thanksgiving with Tim and Megan, their 4 kiddos, and my older brother Tom and his son, Geoff. Ryan's 4th birthday fell on Thanksgiving, and we had fun celebrating that with his grandparents, the McMannamons. (Gonna post those pictures, hopefully before this letter is in anyone's hands.)
In Other News…
We're still in a learning curve with figuring out high school since being parents of a high schooler is new to us! Jeanna seems to be doing quite well with the learning curve, as evidenced by her grades and enjoyment of high school and extra-curriculars. We couldn't ask for better news there!
Jay… enjoys his job at Russell and Associates Architects & Garuston Construction. I keep trying to convince him to get their company set up with email and allow me to create a website for them… we're getting closer, but Jay doesn't ever like to rush into anything! J Seriously, he remains our family's "Rock of Gibraltar" and we do appreciate that fact (and we appreciate HIM, of course)! He ordered custom cabinets and counter tops and created a wonderful computer station for the kids' computer and mine in the den area of our house, and we love it. Now the kids want our computers networked so that we can both be online at the same time. We'll see! At some point, I'm hoping DSL will be available (and more affordable) in our area as things evolve. Jay enjoyed the SMG Christ Renews His Parish retreat this fall, and spends Sunday evenings with the guys he met through the retreat. It's been a great experience for him.
I… continue to enjoy singing in a song group at St. Maria Goretti a couple of Sundays a month. The most fun "gigs" (what else shall I call them??) of the summer as far as singing goes: Singing atop a (very tall!) trailer bed at the Mass that preceded our parish festival, and singing at SMG's first Mass (in August) as an independent parish. It was beautiful, and emotional. The bishop celebrated the Mass, at which our status changed from "mission" to "parish". I also love working on the school and sports pages for SMG's website, as well as the Reale site, St. Monica's school site, my sister Patty's humor site, Tim and Megan's pages, and our neighborhood association's website. (It's obvious I've got web fever!) I also moderate the email announcements lists for both grade schools, and a joke list (self explanatory) and ladies list (inspirational stuff and women's humor), with 2-3 emails sent out each week, depending on the list. Feel free to let me know if you'd like to be added to either or both lists, or my (you can specify Sundays only) Sunday Funnies list. I really enjoy adding humor and inspiration pages to the Reale website, and am finding that more and more folks are discovering that they like the pages as well, based on the number of "hits" those pages receive, as well as the messages left in our guestbook.
I've always enjoyed collecting quotes and inspirational pieces, and creating the web pages allows me to share them. I'm not a good joke teller, but love to laugh, so being able to share a smile through the site's humor pages and the email lists is lots of fun for me.
Still awake?? Really? You might need to monitor your caffeine intake! We wish you a wonderful Christmas and much happiness in the coming year, friends! You're in our prayers. Please stay in touch! We enjoy hearing from you.
The Reales
~ Deb, Jay, Jeanna, & Joseph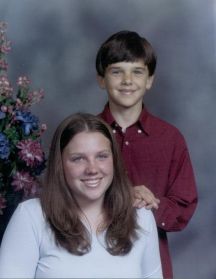 Jeanna (15) and Joseph (10)
September 2000
Friends and family who are viewing our letter online this year, please sign our guestbook (link below), or send me an email so I'll know you visited. Thanks, and all the best to you in the coming year!